Katie Couric Breaks Silence on Matt Lauer's Sexual Harassment Scandal: It's Upsetting
has finally addressed the shocking sexual harassment allegations against her former "" co-host . Couric, who co-hosted the NBC show alongside the disgraced host from 1991 to 2006, broke her silence on Lauer's firing on Friday, December 8.
Couric, who left "Today" in May 2006 to anchor "CBS Evening News", responded to a fan who left a comment on a photo which the 60-year-old veteran journalist uploaded on Instagram, asking Couric to weigh in on the sexual misconduct scandal involving her colleague of 15 years.
"Nothing to say on Matt?? Huh – y'all would have been all over the story years ago. I watched y'all for YEARS. My childhood. Just goes to show you really can't trust people. He interviewed people on their moral character and had none himself," a user under the name of @candacetaylorbenson wrote in the comment section. "I want time back I spent watching!!!!! and you have nothing to say. Crickets. People hear you loud and clear though."
Responding to the raging fan's statement, Couric wrote back, "it's incredibly upsetting and I will say something when I'm ready to. Thanks for your interest." The fan didn't seem to be having any of Couric's response though, as she replied, "thank you! Wow!!"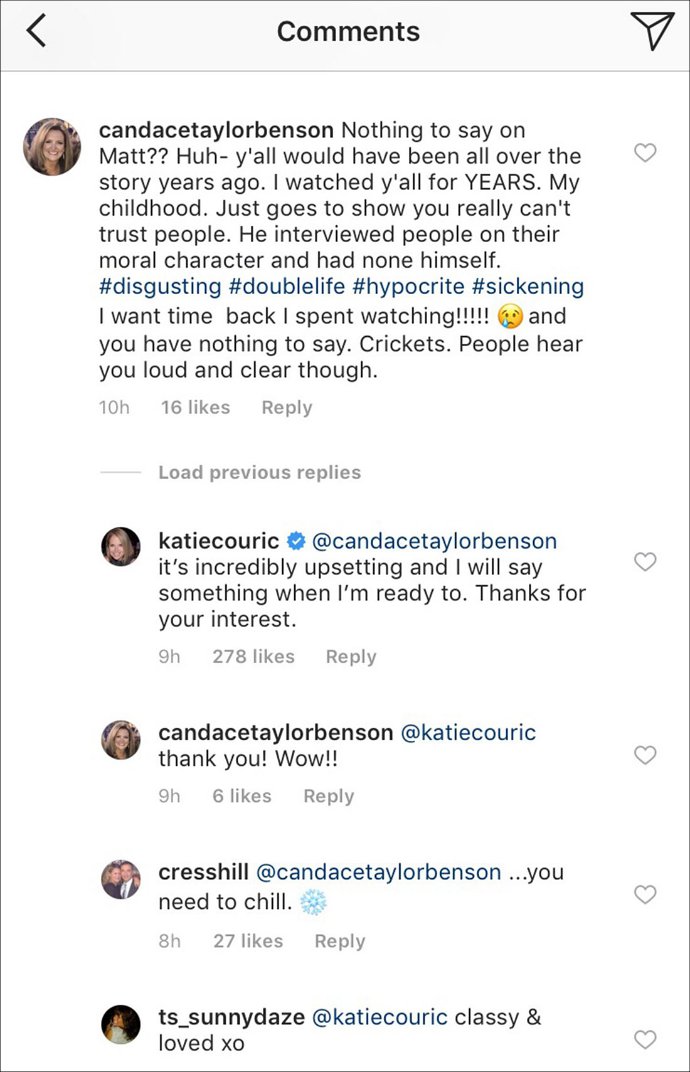 Following Lauer's termination from "Today" over "a detailed complaint" abour his "inappriate sexual behavior," resurfaced online. The footage saw Couric telling host that Lauer's "annoying habit" was that "he pinches me on the ass a lot" while appearing on "Watch What Happens Live".
NBC News Chairman Andy Lack Lauer's firing on Wednesday, November 29 via an email memo. "We received a detailed complaint from a colleague about inappropriate sexual behavior in the workplace by Matt Lauer," the memo read. "It represented, after serious review, a clear violation of our company's standards. As a result, we've decided to terminate his employment."
Rumor has it, the alleged incident happened in 2014, during which he covered the Winter Olympics in Sochi, Russia. During the time, Lauer allegedly invited female employees to his hotel room late at night.
In the wake of the scandal, Lauer and his wife Annette Roque are reportedly planning as they both were spotted without their wedding rings in a recent outing. Lauer and Roque share three children together, though a recent report suggested that the 59-year-old TV personality fathers two kids from .