Andy Cohen 'Forever Indebted' to Surrogate as He Debuts Baby Boy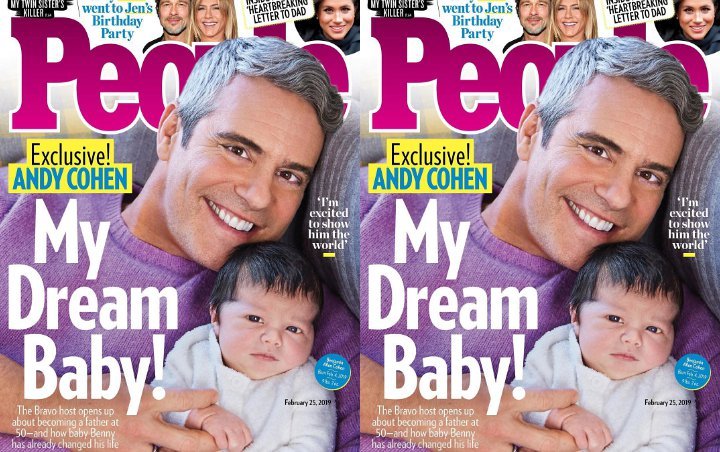 Aside from gushing about his first child who was born in early February, the 'Watch What Happens Live' host also sings praises of his 'incredible surrogate' in a cover interview for People magazine.
AceShowbiz –
Andy Cohen was unable to hide his joy as he spoke about becoming a father for the first time.
Cohen's son Benjamin was born on February 4 via surrogate, and in a cover interview for People magazine, he talked about the moment that he met his son for the first time.
"I was in the delivery room. I had been hoping that he would have a full head of hair, and he really overdelivered," he joked. "That was the first thing you see, the head of hair coming out. And I was amazed."
The "Watch What Happens Live" host, 50, went on to share that he was able to cut his son's umbilical cord before holding his baby for the first time.
"He was so alert for the first two hours. His eyes were wide open. He didn't cry; he was just calm," he said of their first contact. "I kind of have no words for it."
Having long dreamt of becoming a father, Cohen worked with an organisation that helps find an egg donor and a surrogate, in what he described as a "package process."
The TV personality went on to highlight the struggles for LGBT+ people across the U.S. to become parents via surrogacy.
"I worked with an incredible surrogate," he said. "Surrogacy is illegal in so many states, including New York. I don't understand why. It's a voluntary process, obviously."
The new dad was also full of praise for his surrogate and the impact that she has had on his life.
"My surrogate just viewed it as, she was giving me the ultimate gift," he gushed. "She gave me life. So I'll be forever indebted to her."