Faux Chasier Michael Buble Meets Eric Stonestreet in 'Ellen DeGeneres Show' Prank Video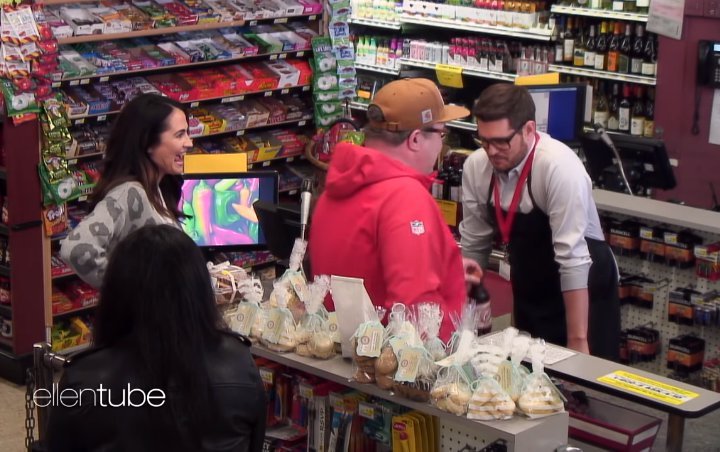 The Grammy winner reveals he thought the host was 'punking me for sure' when he saw the 'Modern Family' star walking up to his register.
AceShowbiz –
In new episode of "The Ellen DeGeneres Show", Michael Buble and Ellen DeGeneres are joining forces to make a prank in at a supermarket in Burbank, California. The 43-year-old singer went under the guise as he dressed himself as a chasier and donned glasses while having earphone on him to get instruction from the host.
First order was him to stick out his tongue before chucking down a bottle of Bubly in front of his costumer because he was nervous. However, his very first costumer was someone entirely unexpected.
"Modern Family" star Eric Stonestreet appeared with his food items in front of Michael's register. At that time, Ellen asked the four-time Grammy winner to make a "beep" sound every time he scanned an item which he obliged. This bizarre situation unsurprisingly made Eric suspicious as he said, "I smell something awry at my Handy Market."
Before he went, Michael asked the actor for a hug and that was when he recognized him as Michael. Another woman also fell victim for Michael's prank as he pretended to steal her credit card information in addition to eating her bananas.
Alongside the said woman, Eric sat down for an interview alongside the "Home" singer and Ellen. "I thought you were punking me for sure. My eyes got so big and I thought, 'Oh no, they're doing it to me!" Michael told the host.
"I would have loved that, but nope!" the Cameron depicter quipped. "I feel like I just crashed a party by the way. How funny is it that this is what you think living in Hollywood is… oh famous people are running into each other all the time!"