Get the Details of Brad Pitt and Jennifer Aniston's Interaction at Her Birthday Party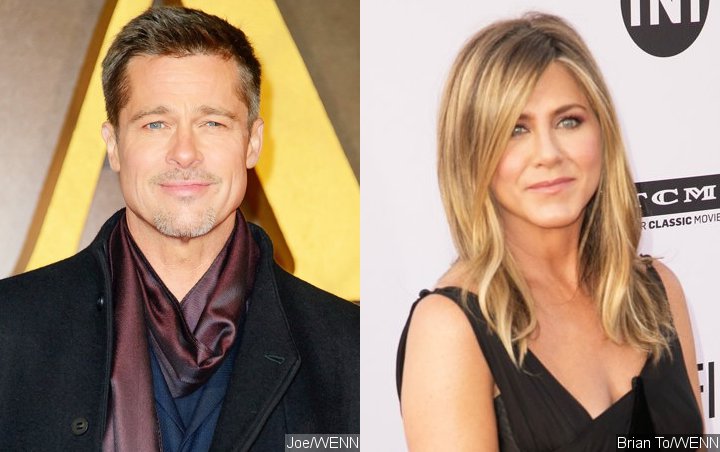 According to a source, the 'Friends' alum hugs her ex-husband and thanks him for coming to her party at the Sunset Tower Hotel in West Hollywood.
AceShowbiz –
Brad Pitt recently caused internet buzz when he was spotted attending his ex Jennifer Aniston's 50th birthday party at the Sunset Tower Hotel in West Hollywood on Saturday night, February 9. Now, sources have spilled details about the actor's interaction with the blonde beauty during the star-studded bash.
According to Us Weekly, Brad and Jennifer shared a hug after he made his way in to the bash venue. "Jen spoke to Brad briefly. At one point she hugged him and thanked him for coming," a source told the news outlet. While the guests were allegedly "surprised" to see his appearance, it "didn't seem like that big of a deal to Jen."
The inside source went on sharing, "The invite went out to a ton of people and he accepted. She was happy he was there, but that was it. She was busy making the rounds and excited to see so many people near and dear to her."
A second source shared to HollywoodLife.com of the former couple's interaction at the party, "It was very cordial, very nice. Everyone is in a good place with each other, but it wasn't like they were hanging out all night or anything like that. It was seen as a really nice gesture by her for him being there and something that she really appreciated."
"The basis of their night together was that they are in a completely good place and had a very nice conversation, exchanging pleasantries with each other," the insider continued. "It was nice that they could both be so mature and natural around each other."
When Brad wasn't with the "Friends" alum, he was enjoying himself by catching up with old friends. "He saw a lot of people he hadn't seen in years. Any negative feelings seem to have been put aside by Jen's friends," the first source said of the "World War Z" actor. "It's been a long time and everyone has moved on. Brad didn't stay all that long and ducked out before most people."
Brad and Jennifer split in October 2005 after five years. While the former later married Angelina Jolie in 2014 before calling it quits two years later. As for Jennifer, she moved on with Justin Theroux and wed in August 2015. They broke up in February 2018.