Ryan Adams Admits He Made Mistakes, Denies Emotional Abuse and Sexual Misconduct Claims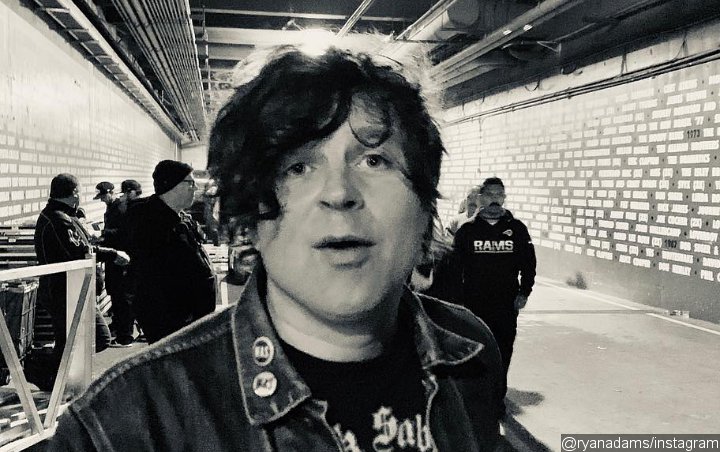 His ex-wife Mandy Moore says the former Whiskeytown star was controlling during their marriage, and others accuse him of dangling 'career opportunities while simultaneously pursuing female artists for sex.'
AceShowbiz –
Ryan Adams is accused of emotional abuse and sexual misconduct in nearly two decades by multiple women. One of the women who shares her account of her relationship with Ryan is none other than his ex-wife Mandy Moore. In an explosive report published by New York Times, the singer/actress says the former Whiskeytown member was controlling during their marriage.
The 34-year-old, who had been a pop star before marrying Ryan, says he constantly belittled her and tried to manipulate her own career. When she parted ways with her music manager, Ryan discouraged her from working with other producers or managers, Mandy says.
"His controlling behavior essentially did block my ability to make new connections in the industry during a very pivotal and potentially lucrative time – my entire mid-to-late 20s," she claims. The "This Is Us" star adds, "He would always tell me, 'You're not a real musician, because you don't play an instrument.' I want to make music. I'm not going to let Ryan stop me."
At least seven women and more than a dozen associates also claim that the rocker "dangled career opportunities while simultaneously pursuing female artists for sex." Phoebe Bridgers, who met Ryan when she was 20, says he started sending her flirty texts when they discussed her music.
They began a relationship and he asked her to open for him on his European tour. A few weeks later, his attention turned obsessive and emotionally abusive, according to Phoebe. He would demand that she prove whereabouts, or leave social situations to have phone sex, and threaten suicide if she didn't reply immediately.
When Phoebe called it quits, Ryan became reluctant to release the music they had recorded together and rescinded the offer to open his upcoming concerts. Her songs were eventually released in April 2015 and the media gave him credit for her rising career.
Phoebe says Ryan continued to pursue her while teasing opportunities. She finally agreed to open for him for a few dates during his tour in 2017. "Then, the first day, he asked me to bring him something in his hotel room," she recalls. "I came upstairs and he was completely nude."
Another musician, Courtney Jaye, says Ryan took notice of her in 2013. He sent her a direct message on Twitter with immediate offers to collaborate. As they talked about music, he started showing his intention to pursue sex with her. Having been victimized before, Courtney says, "I just shut myself off." They wound up in bed, but didn't have sex. Though they continued to correspond for a time, they never recorded anything together.
Another woman, Ava, says she was a fan of Ryan who was forging a career when she began corresponding with Ryan in 2013. She was 14 at the time. He would send her graphic images and exposed himself during phone sex over a nine-month period when she was 15 and 16.
Ava admits she sometimes lied about her age and told him she was older than she was. Ryan didn't seem convinced, but that didn't stop him. She recalls him once saying, "I would get in trouble if someone knew we talked like this." He allegedly also compared himself to R. Kelly. They never met in person.
Ryan's lawyer Andrew B. Brettler denies that the singer ever had these exchanges with Ava. "Mr. Adams unequivocally denies that he ever engaged in inappropriate online sexual communications with someone he knew was underage," the lawyer says.
Through his lawyer, Ryan also debunks Jaye's claims, insisting that they "never had a writing session where they ended up in bed."
Ryan additionally takes to Twitter to respond to the accusations. He initially wrote in a now-deleted message, "Happy Vanetines [sp] day @nytimes. I know you got lawyers But do you have the truth on your side. No. I do. And you have run out of friends. My folks are NOT your friends. Run your smear piece. But the leagal [sp] eagles see you. Rats. I'm f***ing taking you down. Let's learn I bait."
He then updates his page with more tweets addressing the Times' article. "I am not a perfect man and I have made many mistakes. To anyone I have ever hurt, however unintentionally, I apologize deeply and unreservedly," he writes.
"But the picture that this article paints is upsettingly inaccurate. Some of its details are misrepresented; some are exaggerated; some are outright false. I would never have inappropriate interactions with someone I thought was underage. Period," he insists.
He adds that "hearing that some people believe I caused them pain saddens me greatly" and he is "resolved to work to be the best man I can be." He concludes his lengthy statement, "And I wish everyone compassion, understanding and healing."